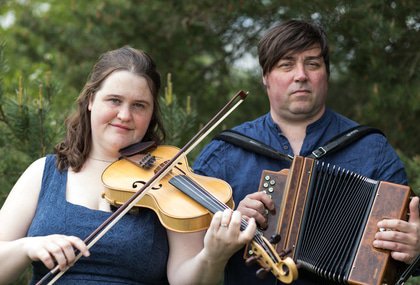 Streamed live from Norden Farm.
Multi award-winning contemporary folk duo Jackie Oates and John Spiers meld together their love of English traditional folk tunes and songs with their voices and acoustic instruments, resulting in a fresh sound that is uplifting, joyful and poignant.
John and Jackie, already admiring of each other's work, met through the vibrant folk scene of Oxford and its surrounding villages, after Jackie moved to the area. They began playing music together shortly after, through regular appearances at Nettlebed Folk Club, special festival sets, a live set for BBC Radio 3 and John's contribution to Jackie's seventh album The Joy of Living.
WHY? Jackie has won BBC Folk Awards as has John who was a key member of the renowned folk superband – Bellowhead
Live streamed via the Norden Farm website
£16.50 per household
Booking cut off time: Thursday 3 September 7.30pm
(If you book after 5pm on the day, you will find the details to access the live stream below and in your confirmation email)
Produced by RM Promotions.
---
Once you have booked your ticket, you can access the live stream on the night of the event by clicking here and logging in to your Norden Farm account.
Click here for a guide to accessing live streamed events and for information on allocating tickets purchased for other households.
---
How do our online events work?
This event will be streamed live via Norden Farm's online events platform. You simply need to book for the event as normal by the cut off time of 7.30pm on the day.
A link to access the stream on your device (computer, laptop, tablet etc) can be found above, alongside a link to our guide to accessing the stream and allocating additional tickets purchased for other households. These details will also be sent to bookers shortly after 5pm on the day of the event. You will need to know the login details for your Norden Farm online account to access the streaming page.