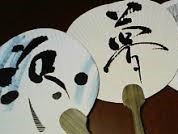 Led by Eiko Ishida.
Design a fan with Japanese calligraphy.
Learn little by little how to concentrate on flow, conduct and apply it with brush and ink in a peaceful setting.
In this workshop, you will be shown the basic principles of writing Japanese characters; using the traditional Japanese materials of a brush, ink and Japanese paper.
You will be guided how to create your first brush strokes and how to build on these basic steps to create some lovely Japanese characters on a traditional Japanese fan.
Everybody is welcome – no calligraphy experience or Japanese language skills are necessary.
Thur 21 Jul and Thur 18 Aug | 1pm – 4pm
£48 per workshop
Suitable for ages 18+ years.