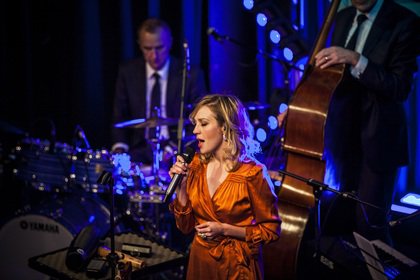 The five-piece band take well known songs from the 70s and 80s, transforming them with a mix of jazz, bossa and samba!
Their unique set of exuberant, original contemporary jazz arrangements includes hits by Dolly Parton, Madonna, U2, The Police, A-ha and Britney Spears.
Fronted by world class vocalist Lucy Randell, Jazz Dynamos have performed sold out shows at the legendary Ronnie Scott's and Pizza Express Jazz Clubs in London, festivals in UK, Italy, Sweden, France, Norway and Bulgaria, and at private events for British and Hollywood Royalty.
Jazz Dynamos are Lucy Randell (vocals, percussion), Mark Adelman (keyboard), Anders Janes (double bass), Dominique Metz (drums, backing vocals) and Stewart Curtis (saxes, flute and piccolo).
Studio
£16
In a change to previously advertised, this event is on Wednesday 5 April at 8pm