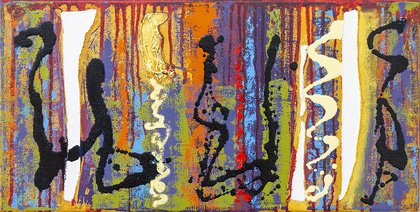 In this exhibition Maidenhead painter John Percy brings together many smaller works made over a long period and not previously seen together.
His abstract work explores process from various starting points, the choices available, decisions made, chance events, the sensitive dependence on initial conditions and the precarious balance necessary between order and disorder in the modern world.
His paintings are not pictures of something. They are works that are enigmatic, contemplative objects, carrying a certain poetic power and, at the same time, something that is a statement of personal ideals and an expression of his sense of beauty in the apparent chaos around us.
There will be a Meet the Artist session on Saturday 10 September and a one day Open Studio at his home studio in Maidenhead on Sunday 11 September.
Norden Farm Gallery
Thursday 8 September - Saturday 15 October
5pm - 10pm
Entry is Free