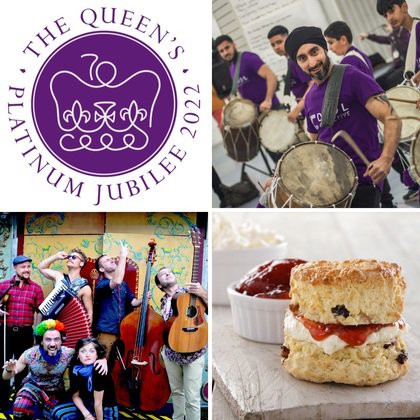 Lovely Jub(i)lee: Come Together
Saturday 4 June 12pm – 4pm
A FREE outdoor extravaganza bringing the community together. This is an afternoon of celebration, with music, dancing, market stalls, food and drink.
Live music and dancing comes courtesy of the Dhol Collective. The 20 drummers and Bhangra DJ fuse traditional Panjabi folk rhythms with popular modern music to get everyone dancing.
The Ceilidh Liberation Front will lead an outdoor ceilidh. London's most radical and vivacious ceilidh band bring dance for all the family – no experience necessary! With their energetic regime of folk dance, they breathe vigour and vitality into the traditional ceilidh, whilst honouring its roots and traditions. (the ceilidh will move into the barn if it's raining!)
There's also free Kite Making Workshops from Community Kite Project. Spaces are limited and can be pre booked on the Norden Farm website here.
Our usual monthly market hosts stalls from local artisanal producers and the Café Bar will be serving food, drink and cream teas.
Sat 4 Jun stallholders include: Nomothsallowed, KaNa Homecooked, Simply Made For You, Como en Casa, Velluet Gray, Angela Heather Millinery, Boutique 42, Dana Kidson, Filling Good, Rapture, Katie Sarah, Vsi Razom - All Together Ukrainian Community, Karen Spencer Artist, Get Whisked Away, Stassie Craft, Bright as a Button Jewellery, AmoraCandlesuk, Pixie pottery, Its All About Tiger Photography, Nick's Knits, ReRe's Soap & Scents.
In the run up to the day, we've been working with local community groups to make giant festival flags which will be on display.
Our Jubilee celebrations also include a screening of Elizabeth: A Portrait In Parts, a giant collage portrait of Her Majesty and a collaborative art installation project with The Dash Charity.
This will be a royally uplifting experience!
Supported by Arts Council England and Berkshire Community Foundation.
See all our Jubilee celebrations here.