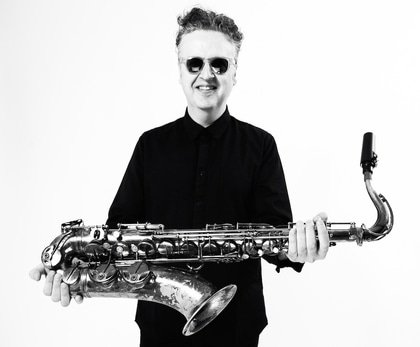 Siegel is a British jazz  saxophone  and  clarinet  player, composer and arranger, described by MOJO Magazine as 'One of the UK's most creative saxophonists'.
Winning awards, from the BBC Jazz Best instrumentalist in 2007 to best album in the 2015 Parliamentary awards, shows Siegel's consistency in a world class arena. But there's much more to one of the UK's strongest improvisors. As much at home playing with large ensembles as small bands, Julian has of late been writing music for his own jazz orchestra, as well as playing Germany's prestigious NDR big band.
But it's the small band setting is where we get to hear his effortless and inventive approach to improvisation. Some obvious references to Joe Henderson and John Coltrane are evident but Siegel is truly a unique figure in British Jazz. Like any master-craftsmen, there is a sense of freedom in his approach, which greatly allows for that feeling of being in 'the now'.
This evening will hear the saxophonist direct the band through a selection of tunes that will sound as energetic and fresh as the day they were penned!
Featuring Alex Hutton (piano), Jez Brown (bass) and Gene Calderazzo (drums).
What to watch for – the special musical connection between the drummer (Gene Calderazzo) and Siegel himself. We're especially pleased to have international star Calderazzo in the band tonight – definitely an evening not to miss!
'Spontaneous sparkle, Siegel's wailing, swerving lines burst with character' John Fordham, The Guardian
'With drive, a warm sound and an endless flow of ideas, Siegel's lines seem somehow three dimensional, even at breakneck tempos' Hi-Fi News and Record Review
Studio
£16