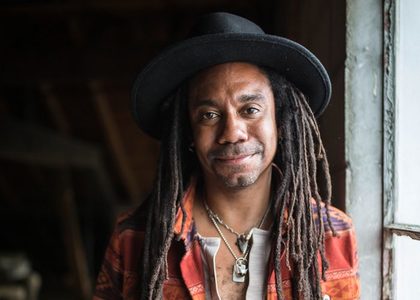 The Toronto-based singer-songwriter has been part of the musical fabric and landscape in Canada for over two decades.
He enjoyed a breakthrough year in 2020, when his second solo acoustic album, The Ridge, earned a million plays on Spotify. It also received praise from press worldwide and airplay from America to Australia to the UK.
The album is loaded with soulful Americana and country twang. It won Julian Taylor the Solo Artist of the Year award at the Canadian Folk Music Awards and was nominated for two Juno Awards (Contemporary Folk Album of The Year, Indigenous Artist or Group of the Year) plus many more nominations.
In 2022, with Julian won best male artist in the International Acoustic Music Awards, and scored five Native American Music Award nominations. He has charted on several Canadian Radio and Indigenous Music Charts.
Julian Taylor is of combined Mohawk and Caribbean ancestry. His versatility as a songwriter is his signature; one minute he's onstage playing with his band spilling out electrified rhythm and blues glory, and the next he's featured at a folk festival delivering a captivating solo singer-songwriter set.
He is known for being an explosive and captivating live performer. He has performed at the Festival d'Été de Quebec, the Mariposa Folk Festival, Ottawa BluesFest and more. Taylor was also invited to perform at the Olympic Games in Salt Lake City and Vancouver.
'A solid slice of roots-oriented folk and soul' Exclaim Magazine
'Lyrically, brilliantly 'The Ridge' exudes innocence.' American Songwriter
'Taylor's conversational vocals set him in the living room of every listener.' Pop Matters
'Taylor is a unique and important voice on the Canadian roots-and-folk scene.' The Globe and Mail, Canada
'Strong messages, poignant words & decisive statements.' Americana Highways
'Among Canada's most premier songwriters. Ultimately, Taylor remains unparalleled.' SPILL Magazine
'Taylor exhibits a straight-as-an-arrow calm with songs full of profound insights.' Listening Through The Lens
'He has a remarkable gift for relaying tenderness, vulnerability, and heartfelt emotion.' Glide Magazine
'Julian Taylor's beautiful voice captivates. Simply brilliant' Rootstime
Studio
£16
Julian Taylor's website
@JulianTaylor
@nordenfarm