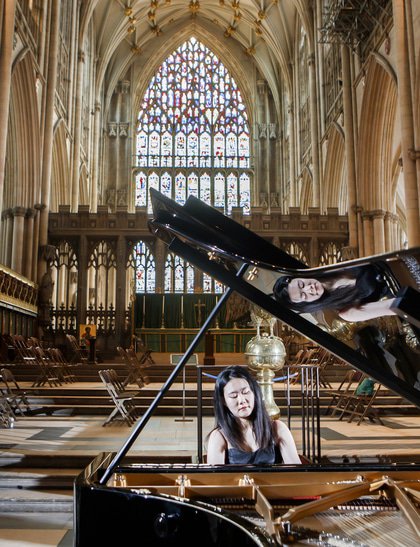 International competition winner Ke Ma last appeared at Norden Farm six years ago playing a Mozart piano concerto, complete with an unforgettable, dazzling encore.
We are delighted to welcome her back for this live streaming. Chopin's set of Preludes is one his most perfect creations and a peak of the Romantic repertoire – with popular preludes like the Raindrop jostling with other ones of stunning virtuosity. Debussy's charming Suite (including Clair de lune) is followed by Ravel's bewtiching masterpiece – true keyboard wizardry! Nigel Wilkinson presents from the stage.
Chopin 24 Preludes, Op.28
Debussy Suite bergamasque
Ravel Gaspard de la nuit
Livestream
£15 per household
Booking cut off time: 7pm on Saturday 13 March
---
Once you have booked your ticket, you can access the live stream on the night of the event by clicking here and logging in to your Norden Farm account. This information can also be found in your booking confirmation email
Click here for a guide to accessing live streamed events and for information on allocating tickets purchased for other households.
Recording of the show is strictly prohibited.