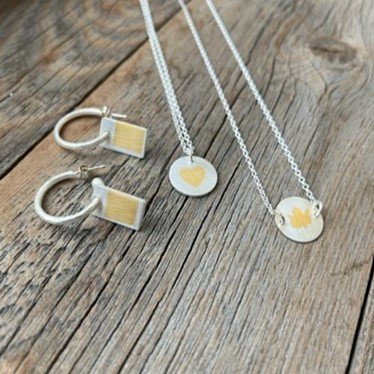 Led by Fiona Dowling
Have you ever wanted to learn how to bond 24ct gold foil with silver to create unique pieces of jewellery. Join Fiona from Jewellery Moves for a day of making, learning and creativity. At this workshop you will be introduced to the Ancient Korean technique of Keum-Boo. You will saw, solder, file, hammer, hand-stamp, texture and add 24ct gold leaf to create a beautiful pendant and pair of earrings.
About Jewellery Moves:
Taught by Fiona Dowling, a graduate of the Royal College of Art, Jewellery Moves workshops aim to teach traditional craftsmanship, jewellery skills and techniques in small groups with a relaxed atmosphere.
Materials:
The cost of the silver and gold leaf are not included in the course fees. The approximate cost of these materials is £40-£50 payable to the tutor on the day.