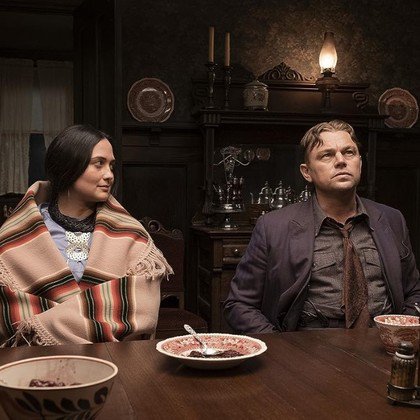 Dir: Martin Scorsese 2023 I 206 mins
1920s Oklahoma.
Members of the Osage tribe are murdered, sparking a major FBI investigation.
Based on a true story.
Stars Leonardo DiCaprio and Robert De Niro.
'Monumental stuff: a story about the deadly legacy of America's colonial sins, both vast and intimate in scope. Exceptional filmmaking, by an exceptional filmmaker' ★★★★★ Empire
'Gladstone is the film's quiet centre, often inscrutable yet exuding a subtle power while the white men chatter away endlessly in this dialogue-heavy movie - 'blackbird talk' as the Osage call it' ★★★★★ Telegraph
'Killers of the Flower Moon suggests film-makers should keep on keeping on. I'd even put my cowboy boot on the line and declare this one of the best Westerns ever made and almost certainly the best film of 2023 so far' ★★★★★ London Evening Standard
'A fascinating companion piece to The Irishman: another soaringly ambitious, balefully riveting act of American national-historical vivisection, carried out within the framework of one of the signature American genres' ★★★★ Financial Times
'It's Gladstone who provides the film's centre of gravity. She gives one of the most extraordinary performances by a woman in any of Scorsese's movies. She is serene but not saintly; a figure of tragedy with a fire in her belly' ★★★★ Independent
£10.50 | £9.50 conc
Special Ticket Offer
£9 | £8 conc tickets when you book for three films at the same time. Offer excludes event cinema screenings. Offer applied in basket.