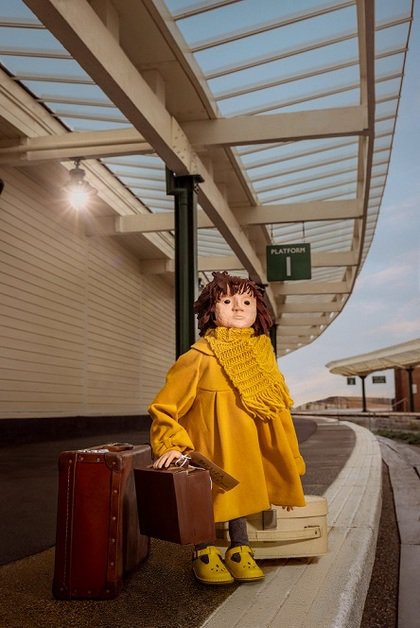 Presented by Smoking Apples.
Escaping on a Kindertransport train, one small Czech-Jewish girl embarks on a
mighty adventure.
Crossing between the past and present, Babi travels across Europe; from bon bons in Germany to the smell of the sea in Margate, she discovers how tiny acts of kindness can change the course of a person's life.
Joyful, moving and poignant, Kinder features beautiful table top puppetry and
cinematic shadow play. Babi tries to assemble the parts of her broken identity, to find peace in her future.
Kinder is a multi-award winning show, from puppetry and visual theatre company Smoking Apples. Inviting you to take a seat inside an immersive set, the story unfolds through a series of playful hatches and openings.
Kinder has been designed to be accessible for neurodivergent audiences. In the space, we will be providing stims (stimulatory accessories) and active responses to the show are encouraged. Audiences will be able to leave and re-enter the show, at any time and there will be a chill out area (with bean bags, ear defenders and more stims) for periods of regulation. An inclusive resource pack is available on Smoking Apples website, in advance and includes a social story. This can be downloaded here.
'Unmissable' ★★★★★ Everything Theatre
'A symphony of artistry' ★★★★★ West End Evenings
'A Must see play' ★★★★★ Fairy Powered Productions
'Absorbing and touching' ★★★★½ The Reviews Hub
Sat 14 Oct: post show Q&A after the 2pm performance: The cast and creatives of Kinder are joined by Nick Winton, son of Sir Nicholas Winton MBE. They will discuss the show, its themes and the heroic story of how children were evacuated from Prague, to the UK, on the Kindertransport trains. There will be a chance to ask the panel questions and gain insight into the production and the inspirational true story behind it.
Supported using public funding by the National Lottery through Arts Council England and Enterprise Arts Trust.
Suitable for ages 9+ years and children studying the Holocaust.
Studio
£15 | £12 under 16s