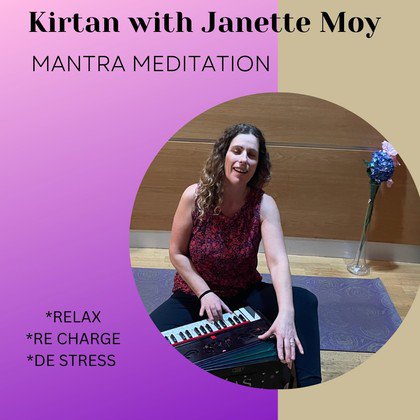 Led by Janette Moy
Kirtan is the practice of gathering together to chant universal mantras. It is the Yoga of Sound, the repetition of the mantras allows us to experience a meditative state. The mantras help relax the mind and re-energise the body/mind as well as release stress/ worries. It is uplifting and healing.

Anyone can join in, you do not have to be able to sing to chant, each of us has a unique primal sound to express and all our voices blend together into one sound. You can sit on the floor or a chair if you need support, you can also stand, move or lay down if you want.

Please bring a cushion or blanket rolled up to sit on. You might like to bring a shawl or blanket around you (not essential, just cosy). If you require a chair please arrive early to give time to organise this. Bring water to drink.

I look forward to sharing these medicinal mantras with you.
Autumn
Fri 15 Sept and 17 Nov
6.30pm - 7.30pm
£13 per session