Kite Flying • Food • Bar • Live Music • Entertainment • Kite Decorating
Join us at Boyn Grove Park (Punt Hill) for our Community Kite Festival on Sunday 3 September between 12pm - 4pm. It's free to attend!
Round off the summer holidays in style with an afternoon of fun for all the community! Bring your kite creations, pre-owned or shop bought kites and join our team to fly them on the hill.
You can also purchase a Kite Decorating Kit on the day (subject to availability). Everyone is welcome, with or without a kite!
As well as all the kite flying fun, the afternoon will include food from local vendors and a bar.
Don't forget to bring along your picnic blanket or camping chairs and get set for an unmissable afternoon of entertainment.
---
Entertainment
★ Feel good music and dancing comes courtesy of  The Dhol Collective . Their drummers and Bhangra DJ fuse traditional Panjabi folk rhythms with popular modern music to get everyone dancing.
★ Local artists Chameleon are sure to get your feet moving and keep the good vibes flowing. Their sound is infused with an amalgamation of various influences - the earthiness of blues and soul with the experimental elements of jazz funk to create a hybrid Avant Rock genre.
★ Live music also comes from Cutashine who will be leading a huge ceilidh for everyone to get involved. Banjo, fiddle and double bass alongside dhol drums in a mega music mash up of rhythm and melody - Don't worry - a caller will be ready to makes sure we all know all the steps!
---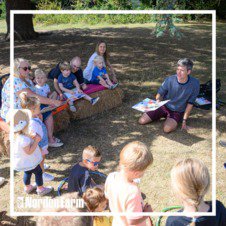 Storytelling
This year we welcome storytelling sessions with Simon Mole.
These sessions will take place throughout the day in a shady spot under a tree in our story den (no. 10) on the map. Storytelling sessions will begin at 12.15pm, 1.15pm, 2.15pm and 3.15pm.
Swallow's Nest Craft Area
Come to our Swallow's Nest Craft area (no. 6) on the map to soak up the atmosphere and join in some free craft activities supported by Optalis.
---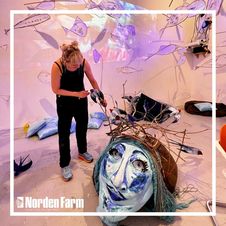 Nordenia
Nordenia will make their first appearance at the Kite Festival, flying their own kite and playing their tambourine, with attendants from our community of Young Leaders escorting her around the site.
---
Green Credentials
We are going greener than ever this year, here are just a few ways in which we are reducing single-use plastic and waste across the site...
★ We will have a water station on site so bring along a bottle or buy a re-useable cup at the bar and re-fil it for free from our drinking water station.
★ Optalis have kindly given us use of their toilets including their accessible facilities and there will be a member of staff on site to help.
★ We have switched to paper kites so come and decorate a beautiful bamboo and paper Kimono kite.
★ The RSPB will be on site giving information on birds with a special interest in swallows. Our festival this year celebrates the migration of swallows.
★ We are using re-useable cable ties.
If you'd like to find out more, please get in touch.
---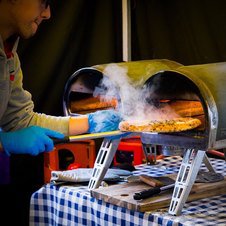 Food and Drink
Food stalls; authentic Punjabi cuisine from Ka Na;  Presto Italian Street Food serving authentic Italian pizzas; Greek food from Greeklicious and Korean street food and Bubble Tea from Yun Jung Ko. Berkshire based BBQ food will be provided by Smoking Skewers.
For those with a sweet tooth Ice creams will be on hand from Franca's Ice Cream; home-made cookies from Get Whisked Away ; award winning  Epic Brownies and specialty coffees, teas and hot chocolates from Jessie's Coffee Truck.
There's also a licensed bar serving soft drinks, Berkshire Botanicals Gin, prosecco and Rebellion Brewery IPA and lager.
FREE EVENT | Sun 3 Sept | 12pm - 4pm
---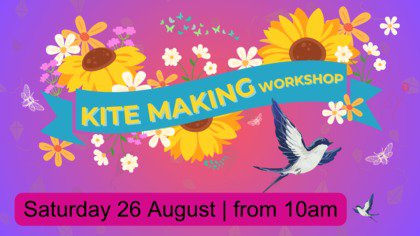 Kite Making Workshops this Summer
Join in by creating your own kite at one of our Kite Making Workshops.
Sat 26 Aug 10am - 3pm at The Nicholsons Shopping Centre.
You can make a kite in 20 – 30 minutes.
Workshops are suitable for all and tickets are £6 per person. Pre booking for Kite Workshops is recommended. If you have a tickets you are guaranteed to make a kite.
---
The Kite Festival is kindly supported by funding from The Prince Philip Trust Fund; Hays Travel Foundation, Cyril Taylor Trust and Spoore Merry Rixman Foundation and our supporters Optalis and The Good Gym.
---

View the site festival map here.