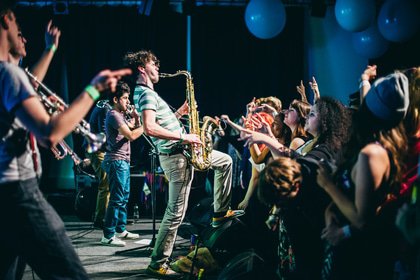 Fresh from leading Norden Farm's Lantern Parade, The Brass Funkeys headline our Lantern Parade Live gig with pumping brass driven funk to get you dancing!
With a bar serving alcoholic and soft drinks, plus street food and hot drinks from Yourz to Eat. PLEASE NOTE THAT THE BAR IS CASH ONLY
The Brass Funkeys are an eight piece London-based Brass Band who draw on the traditions of New Orleans.
They have played at Glastonbury, Wilderness and the North Sea Jazz Festival as well as London venues including Koko Camden, and Ronnie Scott's.
The Brass Funkeys bring together some of the most talented musicians in London in an eclectic live show bursting at the seams with ideas and infectious energy.
Supporting The Brass Funkeys are:
Maidenhead singer-songwriter - Tara Deane.
The Haystack Band - taking well known songs and giving them a fresh, country-pop feel.
Three piece folk-pop band Lewis and Bros.
And Berkshire based singer-songwriter Lisa Kenny performs an acoustic bar set.
Desborough Theatre, Maidenhead Town Hall
Saturday 7 December 6.30pm | Tickets £3 available on the door
---
The Carnival of the Animals Lantern Parade returns to illuminate Maidenhead on Saturday 7 December!
Featuring live music and entertainment from The Brass Funkeys who bring pumping brass driven funk to lead you on the route!
Free to attend and open to all! And you don't need a lantern to take part - just come down and celebrate with the community.
Find out more about The Carnival of the Animals – Lantern Parade here.