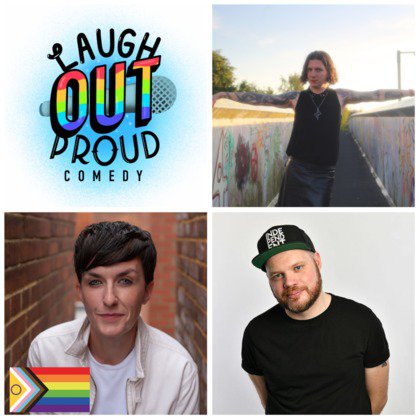 Mark Cram | Kate Martin | Andrew O'Neill
A brand new LGBTQIA+ comedy night. Featuring the best in established and upcoming acts from the community on the UK comedy circuit.
This is night is all about giving acts and audiences alike a fun and friendly place to express themselves, kick back, have a laugh and good time in an inclusive and welcoming comedy club environment.
Whether it's comedy, cabaret or anything in between - Laugh Out Proud is the queer night out you're looking for.
The line up includes:
Mark Cram is quite the all-rounder - with both a killer set and strong MCing chops. For the last few years Mark has been plying his comedy trade across the UK. Constantly evolving, usually unpredictable - he is garnering positive reactions everywhere he goes.

Mark thrills crowds with his tales of dead-end jobs, his family and being the less than grateful winner of Bedford Comedian of the Year.

'A Masterclass in comedy design' Newbury Weekly News
Kate Martin is 'brilliantly funny and energetic' (Angela Barnes) and her 'confident delivery and slick material' (Chortle) has quickly established her as one of the most exciting new acts on the circuit.
At 6ft 1 and with the longest wingspan in comedy (probably), Kate's a naturally engaging, energetic performer with effortlessly tight gags to match. Her unique background in mental health has given her a fresh take on the world. She has a completely distinctive voice and fuels her high energy storytelling, whip-smart punchlines and razor-sharp observations of life's quirks through queer eyes.
Kate was a finalist of the Funny Women Stage Awards 2022, runner-up in the finals of the WDCF New Comedian of the Year competition 2021, and in 2021 won the Comedy Store's King Gong, Up the Creeks Blackout, and the Frog and Bucket's Beat the Frog.
'Bulletproof' Chortle
'Undeniably gifted. Explosive new talent, definitely an act that you will be bragging about seeing early in her career' NDC
Andrew O'Neill is an award winning comedian, musician and best-selling writer. A psychedelic non-binary whirlwind, they combine surrealism, polemic and good old-fashioned stagecraft to produce uniquely counter-cultural stand-up.
Their distinctive voice and alternative credentials have set them apart and allowed them to carve out a unique place in the comedy world.
Andrew has performed in over a dozen different countries, at over a hundred different festivals and is equally at home in rowdy comedy clubs as performing to their own cult following.
'One of the funniest comedians on the circuit at the moment... hitting new heights of comedic brilliance' Timeout
'... talented, intelligent and unique. Bringing the spirit of the alternative '80s back into the comedy circuit' Dazed & Confused
'artistic and unique, their innate confidence and fondness of absurdity leaves their audiences feeling full of glee' Funhouse Comedy
Part of the Pride Season
This year Norden Farm presents its first pride season featuring comedy, drama and film. We celebrate work from LGBTQ+ artists to demonstrate our support for the community and commitment to a world where no one is discriminated against because of who they are or who they love.
Studio
£16