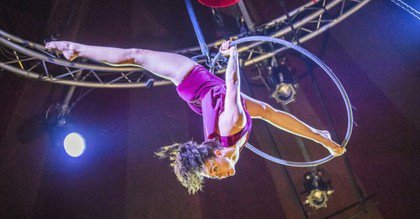 A spectacular circus showcase from the students of Leo's Circus!
Expect incredible performances in silks, rope, hoop & trapeze!
It's showtime! We're bringing you a night of spectacular and aerial performance put together by the students at Leo's Circus.
They have been working on their circus skills and are ready to put on their firs circus show.
Expect to see an exciting display of acts on aerial silks, rope, hoop, and trapeze. The show will bring a variety of circus artists together with mind-blowing performances and jaw-dropping acts that will keep you on your toes!
Our 10 spectacular performances by the students at Leo's Circus will keep you on the edge of your seat!
See the gravity-defying feats and enjoy an evening out with your family and friends!
Let this be an inspiration to the next generation of aerial artists.
Courtyard Theatre
£15
£8 under 15s
Under 3s - FREE (please select 'Free seat' ticket option)
Family (2 adults, 2 children) £40
Due to staff shortages our kitchen will be closed until Tuesday 6 September. The bar will remain open as normal. Please accept our apologies for any inconvenience caused.