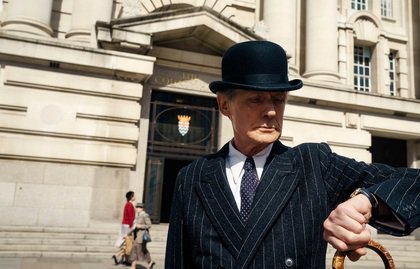 Dir: Oliver Hermanus 2022 | 102 mins
1953. A London shattered by WWII is still recovering. Mr Williams (Bill Nighy) is a veteran civil servant. He is an important cog within the city's bureaucracy as it struggles to rebuild. Buried under paperwork at the office, lonely at home, his life has long felt empty and meaningless.
Then a shattering medical diagnosis forces him to take stock – and to try and grasp fulfilment before it goes beyond reach. At a seaside resort, he flirts with hedonism before rejecting it as his solution. Back in London he finds himself drawn to the natural vitality of a younger colleague.
Then one evening he is struck by a revelation. It is as simple as it is profound. With a new energy Mr Williams sets about creating a legacy for the next generation.
Based on Akira Kurosawa's film Ikiru.
'Addresses weighty matters of life and death with a winning simplicity that is hard to resist' ★★★★ Observer
Talking Tables
The screening on Tues 20 Dec 8pm is a Talking Tables screening. These events aim to bring people together in a relaxed environment to discuss films, share ideas and most importantly - to meet new people! It is particularly aimed at people coming to Norden Farm on their own, but all are welcome. To take part, simply book in to see the screening, then join the group in the foyer before and after the film.
Socially Distanced Screening
The screening on Wed 21 Dec 5pm is socially distanced with a reduced capacity. Face coverings are optional. Food and drink from our Cafe Bar can be taken into the theatre as normal.