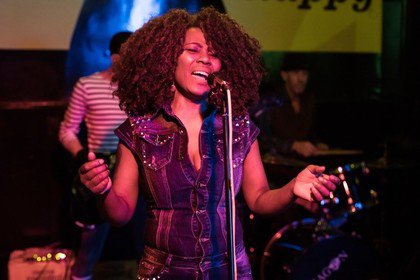 An Afrobeat global funk mashup fronted by Soweto born, London raised vocalist Ingrid Webster.
Featuring members of the London collective Transglobal Underground.
The band was formed in tribute to Doreen Thobekile Webster, Ingrid's mother. After being exiled from South Africa in the apartheid era, she became a major figure in the London African scene. She appeared in the musical Ipi Tombi, singing with Shikisha, Transglobal Underground, the KLF and many others. She was also a regular participant at Club Mwalimu.
Transglobal Underground produced her solo album London Zulu which was one of the first UK based Afro-electronic releases. After Doreen sadly passed away, her band reformed with Ingrid to play a number of tributes to her memory. The reaction to Doreen's inspirational music and Ingrid's charismatic onstage vibe was so strong that they've continued ever since. Ingrid and the band are still in regular demand around the city they're named after.
Studio
£15 (£13 conc)