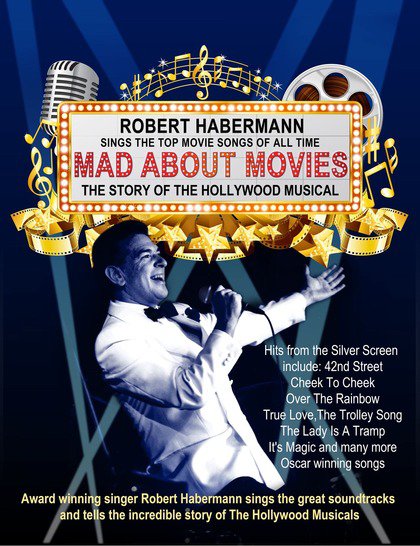 The story of The Hollywood Musical.
Award winning singer Robert Habermann tells the incredible story from the magical moment in 1927 when film star Al Jolson uttered the immortal words - 'You Ain't Heard Nothing Yet!'. From the first talking picture - The Jazz Singer – to the kaleidoscopic Busby Berkeley musicals starring Dick Powell and Ruby Keeler to the iconic Fred Astaire and Ginger Rodgers musicals. From Judy Garland and Mickey Rooney MGM Musicals to Gene Kelly in the iconic Singin' In The Rain.
Expect beloved songs from Walt Disney's Pinocchio and Mary Poppins as well as songs from movies starring Frank Sinatra, Bing Crosby, Doris Day, Barbra Streisand, Liza Minnelli, Elvis Presley and many more.
Songs include 42nd Street, Cheek To Cheek, Over The Rainbow, True Love, The Trolley Song, The Lady Is A Tramp and It's Magic - as well as a medley of 20 Oscar winning songs.
WHY? Online streaming tickets are also available for this event – so you can enjoy the show live from the comfort of your home
Courtyard Theatre and Livestream
£15
Booking cut off time: 7.30pm on Friday 26 March
In line with current government guidelines, this event has a reduced capacity with socially distanced seating. This is subject to change as we monitor government advice. Seat numbers are also subject to change.
Please prepare for your visit by reading our latest Visitor Information here. This includes important information about face coverings, social distancing and measures we have implemented to keep everyone safe when visiting Norden Farm.
---
If you have booked a ticket to watch from home via our website, you can access the live stream on the night of the event by clicking here and logging in to your Norden Farm account.
Click here for a guide to accessing live streamed events and for information on allocating tickets purchased for other households.
Recording of the show is strictly prohibited.