C
S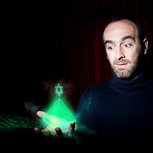 Marlon Solomon - Conspiracy Theory: A Lizard's Tale
Marlon's a Jew. This didn't bother him much until he discovered that some people he knew didn't believe the Holocaust happened.
From 9/11 to shape-shifting lizards and Holocaust denial, this is a darkly comic tale of one man's journey through the conspiracy underworld.
WHY? 'Shrewd, funny and important' The Guardian
Age guidance 13+ years.
Studio
£14 (£12 conc)
S
C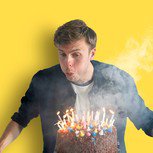 Harry Baker - I am 10,000
Mathematician-turned-world-slam-champion Harry Baker turns 10,000 days old, celebrating numbers, words and life itself.
Harry's love of language and logic has got him through literal marathons, seen him rap battle in front of Ice Cube, and now has him analysing the technical accuracy of So Solid Crew's 21 seconds. He's got 99 problems but maths ain't one.
WHY? 'Ferociously intelligent' ★★★★ Scotsman
Studio
£12