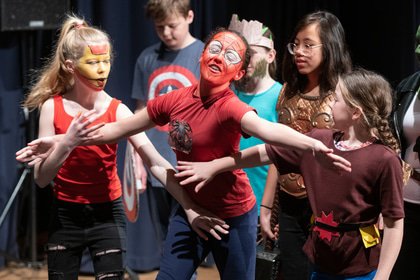 Led by Janine from Sideways Drama.
Create a play from scratch in just four days!
Join Sideways Drama at Norden Farm this Summer for four days of dynamic theatre games and devising, culminating in a performance for your family and friends!
Over the four days, the group will enjoy fun warm up, team and co-operation games and develop skills through working collaboratively to share and develop their creative ideas.
After exploring themes and learning about devising and script writing techniques, we will work together to craft our final performance piece.
There's lots of fun to be had in the making of our Play in 4 Days!
Suitable for ages 8 - 14 years.
Tues 9 – Fri 12 Aug | 10am – 4pm
£220 | £200 Advantage Card Holders