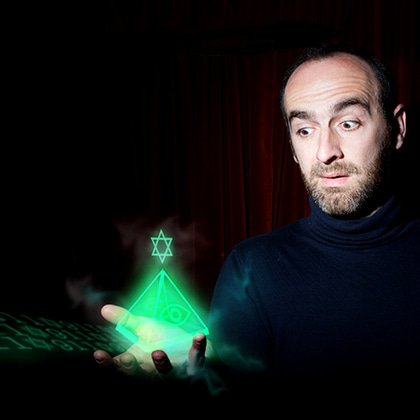 Marlon's a Jew. This didn't bother him much until he discovered that some people he knew didn't believe the Holocaust happened.
From 9/11 to shape-shifting lizards and Holocaust denial, this is a darkly comic tale of one man's journey through the conspiracy underworld. Marlon explores why conspiracy theories are more popular than ever, how fake news gives fresh currency to ancient slander and how this all relates to current issues in the Labour Party. It's a comic tale which is no laughing matter.
Conspiracy Theory: A Lizard's Tale is a piece of documentary theatre, in 2018 it became the first one-person show to be performed in the Houses of Parliament. It also won Best Spoken Word at Greater Manchester Fringe Festival in the same year.

WHY? 'Funny, moving, at some points deeply disturbing, and provides absolutely essential context for the worst aspects of how we live now' David Baddiel
Online streaming tickets are also available for this event – so you can enjoy the show live from the comfort of your home

'Shrewd, funny and important' Jonathan Freedland (The Guardian)
'Compelling, shocking, essential' Al Murray
'A Lizard's Tale is a devastating show. Informative, absorbing and very funny. The funniest show about antisemitism on the fringe. Or anywhere I suspect' David Schneider
Courtyard Theatre and Livestream
£14 (£12 conc)
Booking cut off time: 7.30pm on Thursday 20 May
In line with current government guidelines, this event has a reduced capacity with socially distanced seating. This is subject to change as we monitor government advice. Seat numbers are also subject to change.

---
If you have booked a ticket to watch from home via our website, you can access the live stream on the night of the event by clicking here and logging in to your Norden Farm account.
Click here for a guide to accessing live streamed events and for information on allocating tickets purchased for other households.
Recording of the show is strictly prohibited.