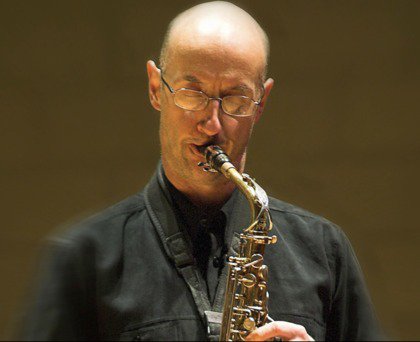 Charlie (Bird) Parker was the highly influential soloist and father of the language of Bebop.
This movement from the 1940's heralded the advent of the virtuosic technique, advanced harmonies and a freedom in musical expression. It has set the standard for jazz musicians ever since.
Martin Speake has been at the forefront of the UK jazz scene since the mid 80's when he first came to prominence as a member of the all-saxophone quartet Itchy Fingers with whom he toured all over the world. He has worked with a wide range of artists and musicians including Loose Tubes, Stan Tracey, Django Bates, Style Council and Airto Moreira. More recently Martin teamed up with former pianist of The Bad Plus, Ethan Iverson.He has recorded 23 albums under his own name, including the internationally acclaimed ECM release 'Change Of Heart' with Paul Motian, Bobo Stenson and Mick Hutton.
'A saxophonist with an unusual turn of phrase, a persuasively gentle sound… Martin Speake is not just a distinctive improviser but a striking composer too'  John Fordham, The Guardian
This evening will bring some surprising and beautiful interpretations of the Charlie Parker repertoire.
Studio
£15