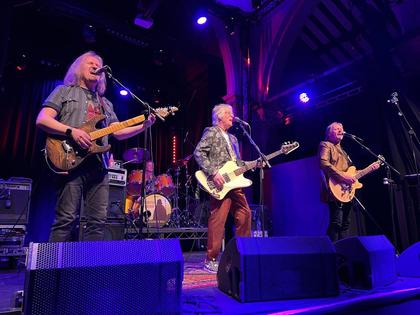 Martin Turner and his band return to the stage to celebrate the 50th anniversary of Wishbone Ash's seminal double live album Live Dates.
Wishbone Ash was formed by West Country musicians Martin Turner and Steve
Upton. They were intent on creating a musical sound that was rich in texture and melody. Martin Turner envisaged the band's innovative harmony-guitar hallmark. Guitarists Ted Turner and Andy Powell were recruited via a now legendary Melody Maker advert.
Wishbone Ash forged a unique musical identity that would produce some of rock music's best loved works. Their name is synonymous with high quality guitar-driven melodic rock music.
Martin Turner continues to delight audiences with performances of the band's best loved works. His current line up features guitarists Danny Willson and Misha Nikolic, and drummer Sonny Flint.
They capture the original Wishbone Ash line-up at its very best during the peak of its commercial success. Expect epic tracks such as The King Will Come, Warrior, Throw Down the Sword and Phoenix.
Courtyard Theatre
£22
Martin Turner ex Wishbone Ash website
@MartinTurnerMusic
@nordenfarm