Miki, Polar Bear and Penguin live in a very far away place. It's an icy world where nothing ever grows. One midwinter eve, they make a wish and Miki embarks on a magical adventure in search of a star...
Based on the book by Stephen Mackey, Miki is an inspiring story about friendship, courage and adventure. It features amazing underwater creatures, enchanting music and extraordinary puppetry.
'Young audiences alternate between giggling with delight and total transfixion' ★★★★ The Stage
Suitable for ages 3+ years.
£13.50 (£11.50 Under 16s)
Family & Friends (4 people) £46
(offer applied in basket)
Presented by Norden Farm and Slot Machine.
This magical show returns after its debut at Norden Farm in 2011. Miki is created by Slot Machine, the company that have previously brought hit shows One Snowy Night and Kipper's Snowy Day to our stage.
Pre Show Touch Tours
For children with SEND and sensory impairments. Contact our Box Office for more details.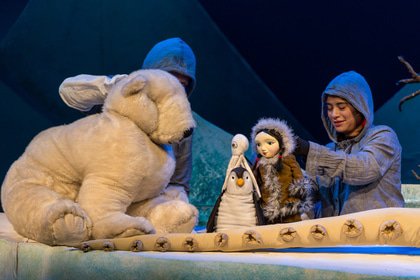 Reviews
'The perfect treat to keep the magic of the season alive'UK Theatre Network
'Love, friendship, a magical Winter wonderland and a crab in funky footwear– Miki is magnificent' Muddy Stilettos
'My children were totally absorbed by Miki from start to finish'Breath of Freash Air Marlow
'Accompanied by a very apt haunting and melodic Sigur Rós-esque soundtrack, which felt like the musical equivalent of the Aurora Borealis, and with a playful juxtaposition of scale and different perspectives' The Henley Standard
'The children in the audience remained engaged and enthused throughout which was a delight to see' Bracknell Family Hub
'The show made a particularly drizzly day in Winter come alive with magic, snow, ice and twinkles!' Families Magazine
'The actors' clever use of voice manipulation kept the audience engaged and made each scene come to life' Maidenhead Advertiser
'There were so many characters and costume changes involved – I actually think they were shapeshifters – it was impressive!' WycMum
'My little ones were transfixed from the moment they sat down, I'm not sure I've ever seen them sit so still!' Little Ankle Biters
'My children were totally absorbed by Miki from start to finish and were completely enthralled with the story line' Breath of Fresh Air
Click here to read what people said about Miki when we first created the show in 2011!
Cast and Creative Team
Click here to find out more about the cast and creative team behind Miki.