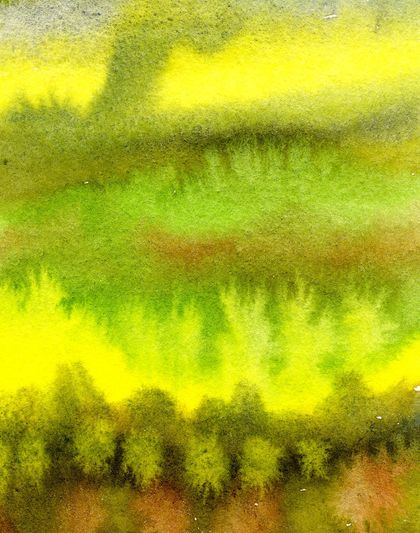 Led by Jo Hall
Colour mixing exercises followed by a landscape painting.
"I haven't got the right green.", "I can't mix the right green.", or "This green is unnatural.", are frequent comments I hear at landscape sessions. This workshop will help you to use primary colours to mix the greens you need and also how to tame some of the fiercer greens in your box to create really useful natural looking greens by mixing with other colours.
Reference supplied or bring your own. Some watercolour paper will be available at cost.
Please scroll down for info on materials to bring.
Sat 11 Mar
11am - 4pm
£40
Suitable for 18+ years
Materials info: please bring
Paint: watercolour or gouache paints, just bring your usual box of tubes or pans.
A few notes on useful colours that will be demonstrated;
A warm blue like French Ultramarine, a cool blue like Cerulean or Phthalo Blue, a warm yellow like Cadmium Yellow medium or other medium yellow, a cool yellow like Lemon Yellow or Cadmium Lemon, at least one red and one earth colour like Burnt Sienna. We'll also investigate how to mix and modify other colours including vivid pigments like Phthalo Green to make natural looking greens.
Paper and equipment: cold pressed watercolour paper 300gsm, drawing board, tape or clips to fix paper to the board, block of wood about 2x2x6 inches or table easel to incline your board.
A good sized palette to mix your colours, plastic pipette if you have one.
Watercolour brushes, water pots, paper towel, small natural sponge, pencil
Some paper will be available at cost. Photo reference will be supplied or bring your own that features a variety of different greens.