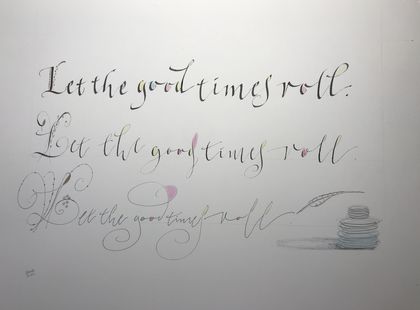 Led by Stuart Maxwell
This course is designed for beginners and advanced students alike. It will cover the style of modern calligraphy and how it contrasts and compares with more formal and other cursive lettering systems. Students will first learn a basic monoline alphabet and then progress onto a more full bodied letter structure. Basic design principles and simple flourishing techniques will also be covered.
Thurs 13 Jan - 17 Feb
2pm – 4pm
£92 for the 6 weeks course
Students will need to provide their own materials.
Either:
• A William Mitchell size 2 nib, reservoir, and pen holder
• A Brause 66EF, Gillott 303, or Nikko G nib and pen holder
• Fountain pen (fine or medium nib)
• Pilot pen 3.8mm, or
• Ball point or fibre tip pen
Plus:
• Ink suitable for dip pens (Pelikan 4001 is recommended) or fountain pens (Quink)/pilot pens as required
• Good cartridge paper A4 or A3
• HB pencil, ruler and eraser
Students may purchase their equipment from scribblers.co.uk