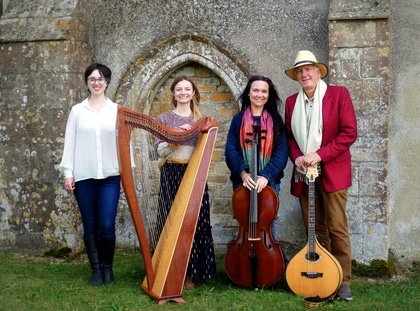 Four piece band, Moonrakers (harp, cello, stringed instruments, whistles, female/male vocals) pride themselves on having brought traditional and contemporary folk music to new audiences in festivals, arts centres, churches and village halls across the UK.
With songs and tunes from the English, Irish and Scottish tradition as well as their own compositions, they've been described as 'startlingly talented' (Oxford Times) and 'truly wonderful' (Wycombe Festival), with five albums of 'exquisite music' (BBC).
Their albums have received glowing reviews in the music press ('The real deal' The Living Tradition; 'Uplifting, sensitively crafted songs and tunes' FATEA magazine).
Studio
£15
Take part in an Acoustic Workshop with Moonrakers on the day of the gig. Work through a number of tunes and songs with the band. Music is sent out in advance along with a video of each tune played at medium pace for those who learn by ear. A rare opportunity to play with a multi-instrumental and welcoming group.