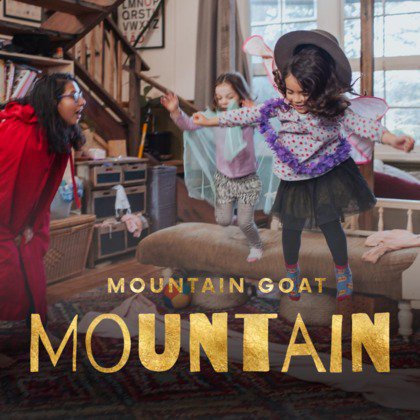 Come together for an immersive, off-screen theatrical adventure with Mountain Goat Mountain, from Australia's Threshold Theatre.
Mountain Goat Mountain is a magical place. Strange and wonderful happenings often take place.
This delightful, audio-led theatre experience for families to share in their home together features playful activities that help you create your characters, setting, props and costumes before stepping into their own imaginative world.
Be taken on a journey that bumps you out of the ordinary and into a world where you work together to uncover its secrets. Explore the forest and rivers of Mountain Goat Mountain and the depths of a mysterious cave - without ever leaving your home!
This theatrical experience provides space for creative connection through play and imagination. Created entirely in isolation by a brilliant team of artists, this unique experience is designed for children and grown-ups to share.
Take this time to make an adventure together!
Ages guidance 5+ years
£12 per household, the experience can be accessed for 30 days after you register
Quest – Adventure Pass Offer
Book for live streamed show Oldilocks and the 3 Bears and on demand audio adventure Mountain Goat Mountain for the special price of £18 (normally £22).
---
'An immersive online experience... it is perfectly pitched' Sunday Business Post, Ireland
'One of the most beautiful family arts adventures I have ever seen' Early Arts UK
'A wonderful lounge room adventure, and will be one of our fondest memories of this topsy turvy time in history' Happy parent
---
Things to know
How many can play? Created for families of any size. Minimum - a grown up and a small person.
How long does it take? Around 45 minutes, about as long as a show at the theatre!
What do you need for this journey? A charged audio device (computer, phone of tablet), a bed sheet (the bigger the better), a piece of blank paper (A4 will do) and your favourite pencils/pens.
You can purchase access to the experience by booking any available slot. If you pre-book before Mon 22 Mar, you will receive an email with details of how to access on this date. If you book after Mon 22 Mar, these details can be found in your booking confirmation email.
Once you've purchased and activated your account, you'll have 30 days to experience Mountain Goat Mountain as many times as you would like.
---
Mountain Goat Mountain - Trailer from Collide on Vimeo.