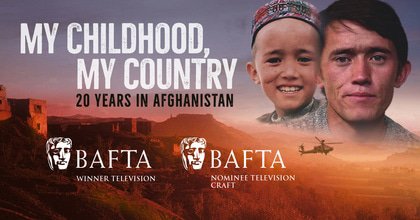 Dir: Phil Grabsky, Shoaib Sharifi 2021 | 90 mins
A real-life epic of boyhood and manhood – filmed across twenty years in one of the most embattled corners of the globe.
When the filmmakers first meet Mir, he is a mischievous boy of eight. Now he is 27 years old, with children of his own – and a fledgling career as a news cameraman.
Mir lived through 9/11, when his homeland became ground zero in the war on terror. He has subsequently lived through the unsuccessful war against the Taliban – who have now regained power.
He has never lived in a nation at peace.
Mir and his family form a portrait of embattled Afghanistan that no other film has ever captured. War, politics, poverty, and heartbreak – all seen from the level of a child frolicking in a muddy, bullet-laden pool, playing soccer on a dirt pitch and forgoing school to work to support his family.
The innocence and optimism of Mir contrasts with contemporary news footage. After more than a trillion dollars spent by 40 countries, and countless lives lost, was the cost worth it – for Mir and the world? The film lets the viewer decide.
'A remarkable, moving, and gripping film told with great intimacy' Film Week
'An emotionally gripping film about a boy becoming a man amidst Afghanistan's war' ★★★★ Movie Blogger
£10.50 | £9.50 conc
Talking Tables
The screening on Tues 11 Oct at 2pm is a Talking Tables screening. These events aim to bring people together in a relaxed environment to discuss films, share ideas and most importantly - to meet new people! It is particularly aimed at people coming to Norden Farm on their own, but all are welcome. To take part, simply book in to see the screening, then join the group in the foyer before and after the film.