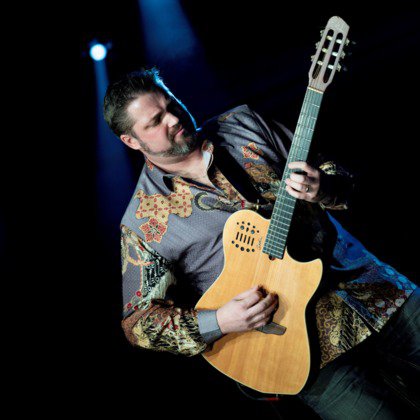 An evening inspired by the music of American jazz guitarist Pat Metheny.
Nicolas Meier – acoustic and steel string acoustic guitar.
Alex Hutton – piano and keyboards
Bass - Tom Mason
Eric Ford – Drums
UK-based guitarist Nicolas Meier has carved a reputation out as one of the world's most original and uniquely talented guitarists.
Drawing from a love of Turkish, Eastern and Middle Eastern music, Flamenco, Tango and other genres, all mixed with jazz , Meier's versatility and musical fluency extends well beyond that.
Nic's considerable talents drew the attention of rock guitar legend, Jeff Beck, who made Nicolas a mainstay in The Jeff Beck Group carrying him on two world tours during the course of the last several years.

Meier originally hails from Switzerland; born in 1973, to parents who are great lovers of the arts. Never short on ambition, Meier founded his own record label, MGP Records, in 2009. To date, he's produced twelve albums: as a solo artist; in various group formats (The Nicolas Meier Group; Nicolas Meier Trio; Eclectica!; Nicolas Meier World Group); with his heavy metal band, Seven7, and; in a duo format, with long-time partner, fellow guitarist and collaborator, the fabulous UK master, Pete Oxley. (Their 2015 release, "Chasing Tales," was a masterful, benchmark album, in the dual-guitar format.)
Meier's sound is rooted in his love of playing jazz on acoustic guitar, especially his Godin nylon-string guitar. It's a sound that lends itself especially well to flamenco and middle-eastern music.
These influences, and more, are brilliantly fused in his unique multi-lingual style. He also plays fretless acoustic guitar, the Saz (a traditional Turkish stringed instrument), electric guitar, steel-string acoustic guitar, glissentar (an 11-stringed fretless insturment) and a baglama. By 2022 a new World Group studio album called "Magnificent" came out. A 3 CD package including "Live" and "Stories" to promote this release, lots of UK concerts and a European tour of 11 dates opening for rock guitar legend Steve Vai.
This show will be a nod towards the influence of Pat Metheny and will be a colourful blend of jazz; rock and European folk influenced Jazz.
Studio
£16