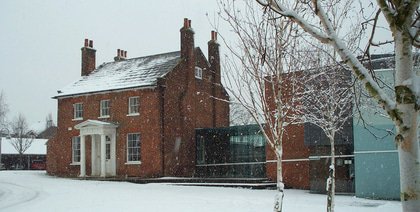 The perfect opportunity to browse for unique presents as local artisan stallholders showcase their handmade wears. Enjoy all your favourite festive snacks and beverages together with a well stocked bar featuring craft ales, mulled wine and a full food menu.
The night market also features live music from Matt Henderson and Abi Powell.
Matt's intricately woven lyricism coupled with a unique take on acoustic guitar make for a refreshing, individualistic sound.
Abi Powell is a singer songwriter from Bracknell. She has performed at multiple local festivals and venues and released her first EP Not This Time in 2015.
WHY? Your Christmas shopping just got a whole load more fun!
Long Barn
Free entry - no ticket required.
O
C
V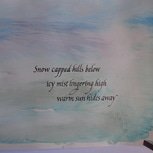 Introduction to Calligraphy (online)
Led by Stuart Maxwell
An introduction to the basic calligraphy alphabet and beginners techniques to make letter forms. Gain an understanding of the basic structure and foundation of lettering.
You will also learn about the materials and tools and how to use them.
Materials list will be sent out before the course begins, you will need the basics of pen, pencil, ruler and paper.
Thursday 30 April - 28 May
2.30pm – 3.30pm week one, then 2.30pm - 4pm week two onwards
£50 per 5 week course
Suitable for ages 18+ years.
Booking cut off time: Thursday 30 April 9am
O
C
V
Zoom into Art (online)
Led by Caroline Crawford
Join professional artist and teacher Caroline for a weekly morning class. She will lead two projects from start to finish over two weeks:
Weeks 1 and 2 - Painting sky's in watercolour

Weeks 3 and 4 - London Skyline working with Brusho inks and fine-liner pens
V
Norden Farm Night Market
The Night Market returns by popular demand!
An atmospheric evening, perfect for browsing unique artisan stalls from local artists and craftspeople.
Featuring live acoustic sets from local musicians. The Café Bar is open all evening, serving craft ales, fine wines and a full food menu (5.30pm-7.45pm).
WHY? A unique and relaxed way to do some summer shopping!
Long Barn Free Entry
Click here to apply for a stall at the summer Night Market on Friday 7 August.