O
C
V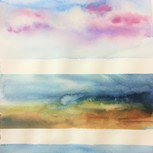 Zoom into Art (online)
Led by Caroline Crawford
Join Caroline for a weekly morning art class over four weeks. Caroline will lead two projects from start to finish. Gain experience of colour blending and application, wet on wet watercolour, ink painting from observation dry on wet and experimentation with media.
Painting skies in watercolour
You will reference imagery, looking carefully at creating clouds and skies learning lots of paintings techniques in watercolour.
Week 1 You will paint three different skies, featuring cloud formation, a stormy sky and a sunrise. Reference artist: Turner.
Week 2 Put your sky paintings into practice and create a landscape painting.
London Skyline Working with Brusho inks and fine-liner pens
Create an exciting piece featuring London's iconic buildings. You will focus on detail, placement, positive and negative space and work with a range of coloured ink crystals. Reference artist: Stephen Wiltshire.
Week 3 Experiment with the brush crystals and learn painting techniques with inks. You will begin to sketch out their London skyline.
Week 4 Finish the drawing element and add the crystals to your piece finishing with fine line pen-work.

Suitable for artists with an intermediate level of experience.

Mon 15 Jun - 6 Jul
11am – 1pm
£60 per 4 week course
Booking deadline: 9am Mon 8 Jun
O
C
V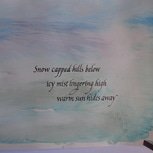 Introduction to Calligraphy (online)
Led by Stuart Maxwell
An introduction to the basic calligraphy alphabet and beginners techniques to make letter forms. Gain an understanding of the basic structure and foundation of lettering.
You will also learn about the materials and tools and how to use them.
Materials list will be sent out before the course begins, you will need the basics of pen, pencil, ruler and paper.
Thursday 30 April - 28 May
2.30pm – 3.30pm week one, then 2.30pm - 4pm week two onwards
£50 per 5 week course
Suitable for ages 18+ years.
Booking cut off time: Thursday 30 April 9am