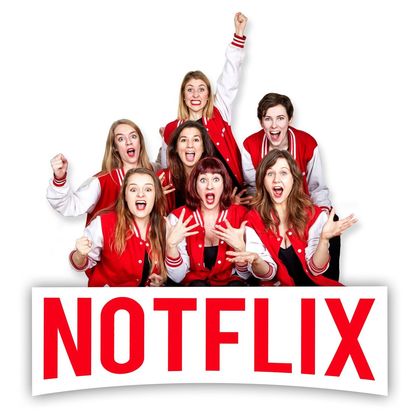 Five-star sellout show Edinburgh Fringe 2017-2018 and VAULT Festival 2017-2018.
Netflix combines the taste profiles of 98 million users to create a perfectly ideal viewing experience. Notflix combines the taste profiles of a room full of theatre goers to create a brilliantly hilarious and completely improvised viewing experience – a full musical.
The all-female cast use audience suggestions of recently watched films to create a brand new, fully improvised, one-night-only musical. Every show is different but what remains is the same joy-filled, high camp, musical celebration of everything you wish a movie could be.
WHY? Because everything is better as a musical!
'Roaringly funny and incredibly talented' ★★★★★ Broadway Baby
'Professional, fun and effortlessly funny' ★★★★ The Observer
'Surprising, spontaneous and delightful' ★★★★ Fringe Biscuit
Courtyard Theatre
£14, £12 Supporters