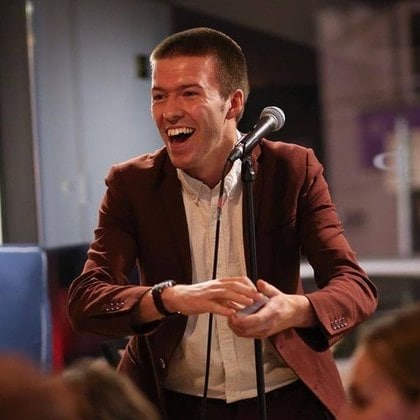 An online event streamed live from the Courtyard Theatre.
'Patrick...that's magic!' Simon Cowell
Join award-winning magician and entertainer PaTRICK Ashe for a jam-packed evening, beamed directly into the comfort of your own home! Norden Farm is excited to present a BRAND NEW magic show, written during the first government lockdown, perfect for the whole family to enjoy. The show contains a ton of comedy, music, 'virtual' audience participation, and of course, plenty of mind-blowing MAGIC, that will make you say phrases such as:
'WOW!'
'THIS IS AMAZING!'
'CAN I HAVE A REFUND?'
Patrick is a professional actor, presenter and magician. His magic has taken him around the world, having made appearances on ITV's Britain's Got Talent, BBC Radio Four and the nationwide talent show Britain Does Variety. He is also a member of the prestigious Magic Circle and was their youngest member when accepted in 2018.
Please make sure you have 4 playing cards per person (that you don't mind getting damaged), in order to take part in one of Patrick's tricks.
Livestreamed event
£10 per household
Booking cut off time: 7pm on Friday 27 November
---
Once you have booked your ticket, you can access the live stream on the night of the event by clicking here and logging in to your Norden Farm account.
Click here for a guide to accessing live streamed events and for information on allocating tickets purchased for other households.
---
How do our online events work?
This event will be streamed live via Norden Farm's online events platform. You simply need to book for the event as normal by the cut off time of 7pm on the day.
A link to access the stream on your device (computer, laptop, tablet etc) can be found above, alongside a link to our guide to accessing the stream and allocating additional tickets purchased for other households. These details will also be sent to bookers shortly after 5pm on the day of the event. You will need to know the login details for your Norden Farm online account to access the streaming page.
Recording of the show is strictly prohibited.