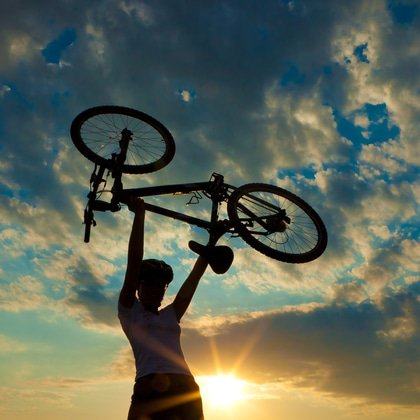 Presented by Redcape Theatre.
March 2020. Kit is a dynamic single mother. Her world suddenly shrinks.
Staying at home to save lives means a retreat back to the role of mother and home-maker. With the walls closing in, the garage and 2 wheels become her sanctuary...
On Track is a new play drawing on true stories and using RedCape's trademark blend of comedy and visual, physical theatre. The audience follow Kit's journey of discovery through the shocking history of women's cycling. Riding at night, disguised as men, these cycling pioneers powered over Victorian ideals of the genteel, house-bound woman and opened up new worlds.
Exploring the effects of isolation on mental health and showing how a simple bicycle can become a vehicle to freedom once again. On Track will inspire you to pump up your tyres and ride out on a new adventure too.
Supported by Arts Council England with funding from the National Lottery. Developed at and supported by 101 Outdoor Arts Creation Space and South Street Arts.
Studio
£16
Please note: age guidance is 12+ years due to bad language