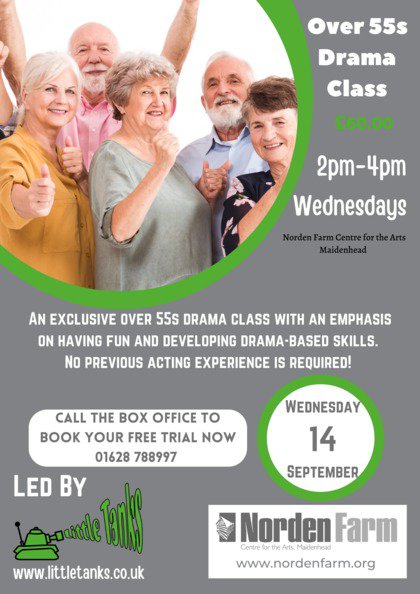 Led by Little Tanks
An exclusive over 55s adult only drama class with an emphasis on having fun and developing drama-based skills. No previous acting experience is required!
Our Social Club is an opportunity for anyone aged 55 and over to connect with other members of our community, learn new skills and take part in fun activities.
This is the chance for you to get involved creatively and is a safe inclusive space to forge new friendships.
Come for a taster session – Wed 14 Sept
We know starting something new can be a daunting experience, so come to a taster session with no obligation. We're sure you will love it in which case you can enrol for a term at a time. To book for the taster session, please contact the Box Office on 01628 788997.
Wed 21 Sept – 19 Oct
2pm - 4pm
£60 per 5 week term
The group meets Wednesdays from 2pm - 4pm, with a refreshment break in the middle – enjoy something from our in-house café bar which is a lovely space to stay chat after the session too.
Once you have booked onto the sessions, please click here to complete the information form before attending.