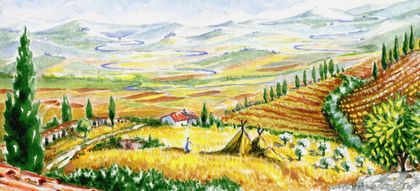 Led by Jo Hall
Bring a photo reference from a holiday by the sea or of the countryside and complete two or three small paintings in watercolour; these may be as small as three by four inches up to about five by seven inches or similar square formats.
This really hones your skills in composition and simplifying subject matter.
Materials - please bring the following
Watercolours pan or tube, brushes, palette, water pots, paper towel, small sponge, pencil
Drawing board, block of wood about 2 x 2 x 6 inches to tilt the board (may be better than a table easel for this workshop), masking tape
Watercolour paper - hot or cold pressed surface and about 300gsm, or small Khadi paper.
If you are bringing quarter size watercolour paper or A3 please bring a 12 inch ruler to mark out the painting areas.
There is no need to purchase small papers especially for the workshop.
Some paper will be available at cost from the tutor including some handmade Indian paper (Khadi).
Additional photo reference will also be available.
Sat 8 Oct
11am - 4pm
£40