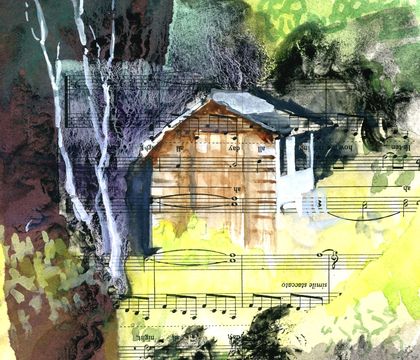 Led by Jo Hall
Exciting textures can be made when charcoal and ink are used together. Taking inspiration for subject matter from sheds, derelicts and ancient sites, we'll add watercolour into the mix and explore granulation and other texturing techniques including the use of sea salt and bubble wrap. An element of collage may be included for additional interest.

Please bring the following materials:
Charcoal, India Ink, pen, watercolour brushes, watercolour paints and palette
Cold pressed watercolour paper weight 300gsm or heavier, cartridge paper or sketchbook
Drawing board, block to tilt the board or table easel
Water pots, masking tape or clips to hold paper, paper towel
Small natural sponge if you have one
Reference will be provided for week 1.
Some paper will be available from the tutor at cost.
Tues 6 Sept - 18 Oct(exc 4 Oct)
12.30pm - 3.30pm
£120 per 6 week course