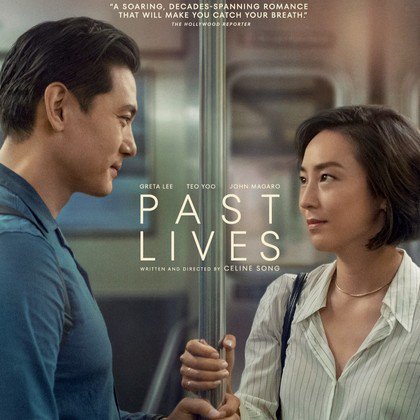 Dir: Celine Song 2023 I 106 mins
English and Korean with English subtitles.
Nora lives in New York. She is reunited with the man who was her childhood friend in South Korea. It is a fateful week.
'It's a must-see' ★★★★★ Guardian
'Plaudits to the principal cast, who do a miraculous job of portraying inner conflict and ecstasy with the merest tilt of a head, or subtle shift of a shoulder' ★★★★★ Observer
'Song finds the political in the personal and avoids seeming indulgent or niche' ★★★★★ Observer
'The film's great magic is the way it captures the beauty of lonely cities with a camera that seems to caress their geography' ★★★★★ Daily Telegraph
'The performances are impossibly strong and awards-season ready. Anything other than a best actress Oscar nomination for Lee will be criminal' ★★★★★ Times
'A transcendent debut for South Korean-Canadian filmmaker Celine Song, this romantic drama is a masterclass in slow, simmering storytelling. It will stay with you, maybe even into your next life' ★★★★★ Empire
£10.50 | £9.50 conc
Special Ticket Offer
£9 | £8 conc tickets when you book for three films at the same time. Offer excludes event cinema screenings. Offer applied in basket.