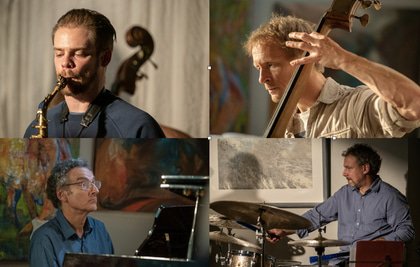 Melodic jazz with inspirations from around the world.
The Cape Town-born pianist/composer's South African roots have inspired a voyage of discovery. It has led to him soaking up the joyful passion of Caribbean calypso, the bluesy melodies of middle eastern praise songs, the exuberant sway of Cuban dance music and the tuneful essence of Gospel while honouring jazz heroes including Bill Evans, Keith Jarrett and Charles Lloyd.
Philip is a key member of the popular London-based world jazz ensemble Zubop and its offshoot ZubopGambia, with BBC World Music award-winner Juldeh Camara. He created a solid body of work with African roots.
Since moving to Dorset, he has responded to his new surroundings with impressionistic compositions that complement his world music interests. They resonate with strong themes and pack a mighty rhythmical punch.
He is joined by rising star saxophonist Samuel Eagles, bassist Tim Fairhall and drummer Ted Carrasco.
'The best of British jazz' Chris Phillips Jazz FM
'Precise ebullience and relaxed funkiness' The Guardian
'A revelatory experience' UK Vibe
'Clouts' compositions are strong and likeable. The quartet's playing is similarly engaging, a feeling of optimism pervading the tunes with a life force of its own' All About Jazz
'It has a very infectious feel-good quality about it' Jazz FM
'Clouts' affection for a gospel-powered earthiness emerges in the relaxed funkiness of his piano solo' The Guardian
'Clouts' compositions are highly melodic, rhythmically varied and stylistically and culturally diverse. In this quartet he has musicians capable of bringing his ideas to colourful and vital fruition' Ian Mann
Studio
£16
Philip Clouts Quartet website
@philipcloutsquartet
@nordenfarm