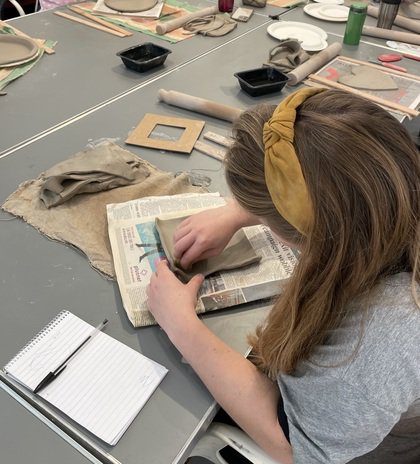 Led by Helen D Evans
This workshop is for all abilities.
During the workshop you will use slab building techniques to make either a platter or a series of platters - perfect for entertaining guests.
After the course. Your work will transported off site to be bisque fired and a clear glaze
applied before being re-fired.
We will arrange a date after the course for collection of work from Norden Farm which usually takes between 4-6 weeks.
Work will be fired to Earthenware.
Cost includes clay, use of materials and x 2 firings and application of a clear glaze.
The class will run from 11-4pm. A break(s) will be negotiated at the start of the workshop.
Please bring with you: an Apron
any Pottery tools you may have
Sketchbook for ideas / with ideas
Pens / Pencils