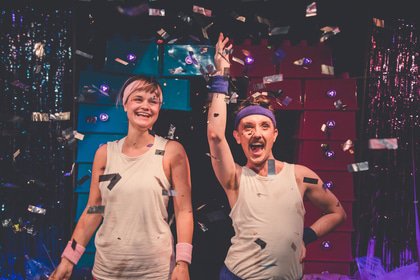 Some girls like football. Some boys like pink. Everyone likes a good story. Exploring gender stereotypes in a fun, questioning way, Princess Charming is a celebration of being exactly who you are.
This show is for anyone who doesn't like being told what to do and is about finding the courage to defy expectations.
Cabaret performers explore what really matters about being a boy and being a girl with dances, songs and skits created with children, for children.
The theatre is transformed into a family friendly cabaret club full of laughter and sing-a-longs. Join in at the end as the next generation of cabaret stars take over the stage.
Recommended for ages 6 – 11 years.
WHY? 'Pertinent and powerful, but most of all it's extremely fun! Princess Charming teaches kids (and adults) that they can just be themselves' A Younger Theatre
'A hilarious, touching and truthful performance with a powerful, important message' ★★★★ Female Arts
'An absolute gem of a show. Exploring gender stereotypes using the very clever medium of a cabaret.. it is entertaining, informative (though never preachy) and vitally, incredibly relevant' ★★★★★ WestEnd Wilma
Click here to read the full review
Presented by Spun Glass Theatre
Studio
£10 (£8 under 16s)
Family and Friends (4 people) £32
Tickets/seats are not required for children under 18 months who are happy to sit on laps.