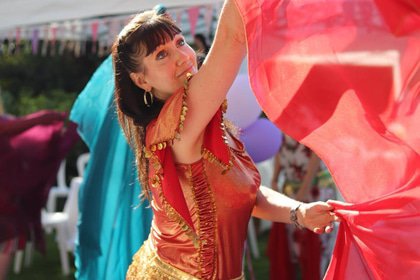 Led by Ellen O'Farrell
You're never too young or too old to learn to dance.
Join us and learn to bellydance step by step. Come discover this beautiful feminine art form, enjoy the middle eastern music and work your core muscles while you're having fun.
Spring
Tues 14 Jan – 3 Mar (exc 11 and 18 Feb), 10 Mar – 28 Apr (exc 7 and 14 Apr)
2.30pm - 3.30pm
£12 per class | £50 per 6 week course
Food and drinks can be purchased from our Café Bar. If you are providing your own lunch we ask that you eat this in the workshop space. Only Norden Farm's catering can be consumed in the main foyer.
Norden Farm is a charity that operates on extremely tight margins and every penny really counts. Income from the Café Bar is essential to support our running costs. If you are able to support the charity, by buying food and drink from our Café Bar when you are here, it really helps.