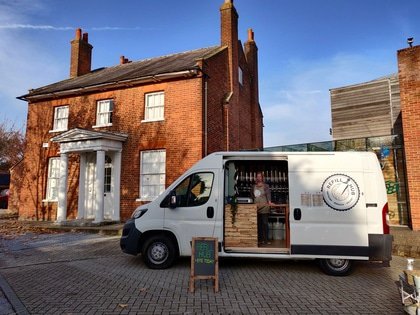 Catch mobile refill shop - Refill Hub - outside Norden Farm.
Refill Hub's mission is to help reduce single use packaging waste in the community through a change in shopping habits. By offering a convenient mobile service will help people to make the switch, or to continue to reduce unnecessary packaging use in their homes.
The van (Martha) stocks a good range of organic and non-organic essential foods, freshly roasted coffee beans, confectionery and snacks, cleaning products and toiletries - all plastic free and ethically sourced.
The best way to use the service is to take a look at the product list on their website here and decide what you would like, then simply turn up with some containers to be filled.
---
Autumn Dates:
Fri 15 Oct 5pm - 6.30pm
Fri 29 Oct 5pm - 6.30pm
Sat 6 Nov 12pm - 4pm | Norden Farm Market
Sat 27 Nov 12pm - 4pm | Norden Farm Festive Market
Wed 8 Dec 5.30pm - 7pm
Sat 18 Dec from 3.15pm
---
Visit the Refill Hub website at refill-hub.co.uk or find them on Facebook and Instagram.
---
While you're getting topped up you can grab a takeaway coffee, meal or snack from Norden Farm!
The menu includes freshly made lunches, mains and local draft beer. Find out more about what we have on offer here.