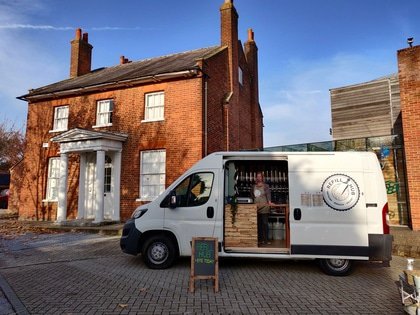 Catch mobile refill shop - Refill Hub - outside Norden Farm on Saturdays between 11.30am - 1pm.
Refill Hub's mission is to help reduce single use packaging waste in the community through a change in shopping habits. By offering a convenient mobile service will help people to make the switch, or to continue to reduce unnecessary packaging use in their homes.
The van (Martha) stocks a good range of organic and non-organic essential foods, freshly roasted coffee beans, confectionery and snacks, cleaning products and toiletries - all plastic free and ethically sourced.
The best way to use the service is to take a look at the product list on their website here and decide what you would like, then simply turn up with some containers to be filled.
---
Visit the Refill Hub website at refill-hub.co.uk or find them on Facebook and Instagram.
---
While you're getting topped up you can grab a takeaway coffee, meal or snack from Norden Farm!
The menu includes freshly made lunches, mains and local draft beer - you can even bring your own bottle to get topped up. Find out more about what we have on offer here.
Our takeaway service is environmentally friendly, with food served in fully compostable containers.