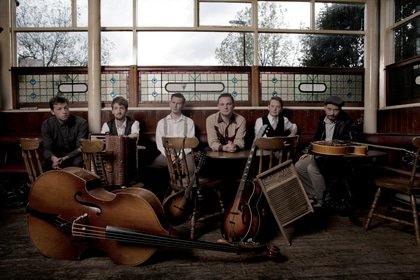 Based in Newcastle Upon Tyne, the band play their own brand of Western Swing, Blues, Gypsy Jazz and Country - or 'North Eastern Swing' as they've coined it.
Their style is influenced by early 20th century American music, with the addition of razor-sharp solos, great arrangements and original songs. Their music harks back to a golden age whilst staying perfectly modern. Rob Heron's songs are full of character, satire and good old fashion hollerin'.
The six-piece band features Ben Fitzgerald (guitar), Tom Cronin (mandolin), Colin Nicholson (accordion), Ted Harbot (double bass) and Paul Archibald (drums).
WHY? 'Amazing musicians who play with both passion and a sympathetic regard for the history of the genre' Maverick Magazine
Studio
£14