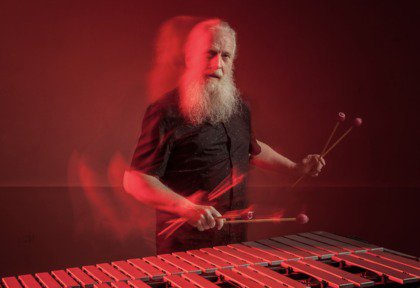 We must thank Louis Armstrong for incorporating the Vibraphone in his 1930 recordings. 
This began the vibraphone's long association with jazz. It was Lionel Hampton who quickly realized the instrument's expressive capabilities and deployed it as a frontline lead instrument. His virtuosic showmanship established the stylistic blueprint for vibraphone playing in jazz, and in his wake came a raft of other talented innovators, especially Milt Jackson, Gary Burton and. Bobby Hutcherson who helped to take the music beyond swing to bebop, Latin jazz, and ultimately free jazz.
Roger Beaujolais has been a well-established musician since the 80's when he found early success touring with the bands Chevalier Brothers and Fairground attraction and later heavily involved with the 90's acid jazz movement. Since then, he has worked with everyone from Roger Plant to Paul Weller. But his passion is with jazz the small band ensemble and has produced many albums with his quartet and tirelessly collaborates with artists from all over Europe. He has released many Jazz albums along the way, a this evenings concert will give a small preview of his latest 'tribute to Milt Jackson' album. The music tonight will also take us on a journey through the development of the Vibraphone from the swing era through Bebop and into more Contemporary Jazz.
Studio
£15