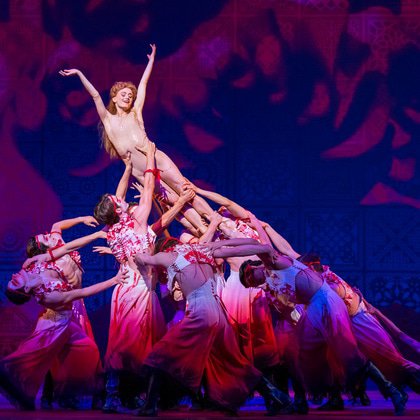 3 hours and 10 minutes (inc interval)
A co-production between The Royal Ballet and American Ballet Theatre, inspired by Laura Esquivel's novel. This modern Mexican classic is a captivating family saga.
Tita lives with her family on a ranch in Mexico. She falls in love with Pedro. But when they want to marry, family tradition prevents it. Tita must remain unmarried in order to care for her mother.
Tita's love for cooking is such that her own emotions are transmitted to others through the food she prepares. As her moods change in response to events in her life, the consequences for all those around her become ever more startling…
Mexican conductor Alondra de la Parra also acts as musical consultant for composer Joby Talbot's newly commissioned score. Artistic Associate Christopher Wheeldon worked closely with novelist Laura Esquivel to reshape her richly layered story into an entertaining and engrossing new ballet.
Suitable for ages 12+ years

'Not all choreographers are good directors, but Christopher Wheeldon is. Even when dealing with a tricky text such as Laura Esquivel's magical realist novel Like Water for Chocolate, his is a steady hand. His choreography seems in a telepathic relationship with the melody and mystery of Joby Talbot's score, while Bob Crowley's designs, inspired by Mexican architect Luis Barragán, give a sense of heat and isolation, and some visually arresting coups de theatre' ★★★★ The Guardian
Talking Tables
The screening on Tues 24 Jan 7.30pm is a Talking Tables screening. These events aim to bring people together in a relaxed environment to discuss films, share ideas and most importantly - to meet new people! It is particularly aimed at people coming to Norden Farm on their own, but all are welcome. To take part, simply book in to see the screening, then join the group in the foyer before and after the film.