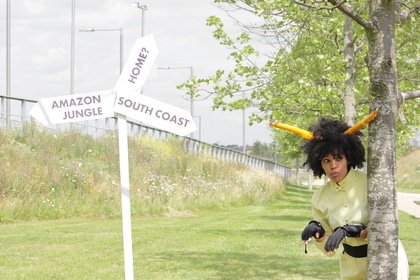 Space Rabbit's planet is destroyed by a meteorite, sending her hurtling towards Earth.
She lands outside a care home, frightened and alone. Inside is Rufus Longbottom. He is an elderly gentleman itching for one last adventure. The unlikely pair go on a journey to the ends of the earth in search of a place to call home.
The show also features exciting on-stage sound design using 'Mi-Mu' gloves. The gloves use a motion data-capture system to guide computer-based live sound design - enabling Space Rabbit to manipulate the live vocal score.
The result is a truly magical and other worldly dimension - making the show unlike anything you've ever seen before!
Age guidance: 6+ years.
WHY? Songs, music and a bit of magic enchants audiences young and old alike
What audiences are saying about the show...
'I really enjoyed your show! It was a charming mix of physical, musical and narrative....and it looked lovely too' Audience Member, Stratford Circus

'Lovely Saturday morning watching the magical @filamenttheatre #ruffusLongbottomandTheSpaceRabbit - sublime a capella and so many uses for paper plates! Wonderful whether you are 6 or 60' Twitter

'Rufus Longbottom and the Space Rabbit. @StratfordCircus So full of life, love and learning. Congratulations @filamenttheatre #fun #joy #acapella @UniCamPrimSch' Twitter
Studio
£10 (£8 Under 16s)
Family and Friends (4 people) £32
Tickets/seats are not required for children under 18 months who are happy to sit on laps.
Take a look at the full summer programme here: