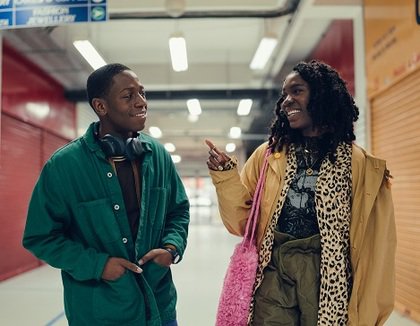 Dir: Raine Allen Miller 2022 | 82 mins
Yas and Dom are two twenty-somethings both reeling from bad break-ups. They connect over the course of an eventful day in South London, potentially restoring their faith in romance.
'No other British film has, in a generation, done such imaginative work in restructuring romantic comedy. It is one of those rare films the audience didn't know it really, really needed.' ★★★★★ The Irish Times
'Rye Lane marks the torch not just being passed, but eagerly seized.' ★★★★★ Daily Telegraph
'Will leave you with a smile on your face, a spring in your step and (hopefully) a renewed confidence in next-wave British film-making' ★★★★ The Observer
'It's a frothy metropolitan comedy with some heyday Richard Curtis energy and a deep affection for its well-crafted and smartly performed characters...' ★★★★ The Times
'The romcom has lapsed into such an anaemic state that Rye Lane feels like a miracle. Here's an entry into the genre that doesn't surrender to thinkpiece-ready neuroticism.' ★★★★ The Independent
'Though Rye Lane was made with Disney money, the vibe is more indie-movie / Channel 4 sitcom than slick blockbuster – with a bit of screwball comedy thrown in.' ★★★★ London Evening Standard
'Ridiculously charming, immensely funny, and shot with an unusual zestiness, Rye Lane is purely joyful company - and a shot in the arm for future romantic comedies.' ★★★★ Empire Magazine
'Fun and fresh with an appropriately sweet ending.' ★★★★ Little White Lies
£10.50 | £9.50 conc
Special Ticket Offer
£9 | £8 conc tickets when you book for three films at the same time. Offer excludes event cinema screenings. Offer applied in basket.
Socially Distanced Screening
The screening on Tues 18 Apr 2pm is socially distanced with a reduced capacity. Face coverings are optional. Food and drink from our Cafe Bar can be taken into the theatre as normal.